PROMISED LAND RESORT
2020 UPDATE
We are pleased to announce that our newly renovated Promised Land Resort is now ready for the 2020 season. We are honored and grateful that you have chosen to stay with us in the past and look forward to providing you again with a unique and serene experience along with comfortable amenities and stunning view.
We have had an amazing summer and are excited to share with you that our efforts in revitalizing Promised Land Resort has made it safer and better than ever. We are grateful to all the volunteers that have helped us, all the prayers and the hopeful, encouraging words that have been passed along to us. It has been our motivation, pushing forward.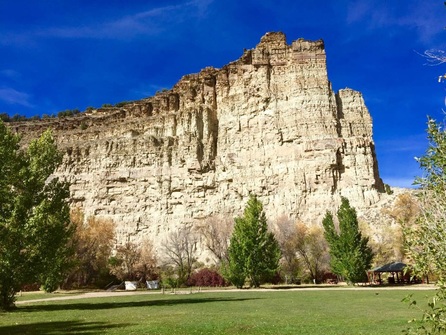 Some of our improvements are as follows:
We have a newly remodeled pavilion with a commercial kitchen that is equipped to serve 200 people, stove with 4 burners, flat top grill, two ovens, commercial refrigerators and freezer, ice maker, food warmer and a commercial grill.

To help make your event worry and stress free, we now have a catering option.

 

Visit our website for more information.

The campground has 20 new graveled sites and improved gravel roads.

We have a new 200 ft. long Gabion rock wall along the banks of the lodge area to keep the river from overflowing.

We have raised our footbridge that crosses the river from the lodge to the campground. It is

 

bigger, longer, safer and more sturdy.

Our lawns have been reseeded and some areas have been sodded.
Duchesne County has been incredibly supportive and genuinely attentive to our needs.

 

They have applied and have received an 8.5 million dollar grant to begin repairing the road along the Strawberry River Corridor.

 

They have also promised to replace and raise the bridge that accesses the campground on the county road.
Wildlife Resources have also been amazing!

 

They have planted hundreds of mature trout in the river!

 

Fishing has returned to the Strawberry River!
We are now taking reservations for the 2020 season.

 

Fostering a comfortable, rustic charm, we have an awe inspiring setting for your family reunion, retreat, wedding, or simple getaway!

 

Around Promised Land, life slows down, filling your heart, freeing your mind and feeding the spirit.

 

We offer a setting and amenities that inspire and invigorate.
Each event is customized to meet your needs, making the planning process seamless.

 

We hope you will see us soon and that you will enjoy the Resort as much as we do.
For further information, please feel free to contact us: